[rev_slider home_hcp]
Health Care Providers
Educating and empowering our patients and their families is critical.
These resources are designed to educate families and give them tools to competently and confidently managing their children's food allergies and bring awareness to their surrounding community.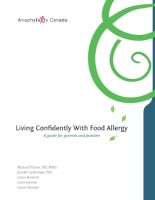 A resource to help your patients learn important information about food allergy management, ways to educate their children and communities, and other helpful tips and support.
Also available in Spanish.
The families that we care for must know the pillars of food allergy management. They need to prevent allergic reactions and be prepared for allergic emergencies. Prevention and preparedness are the two pillars of food allergy management. They need both, always.
Tools to teach patients, caregivers, and educators
Video Tutorials
External Resources
Food Allergy Epidemiology, Diagnosis and Management in the Medical Home
This free webinar was offered by the American Academy of Pediatrics' Medical Home Chapter Champions Program on Asthma, Allergy and Anaphylaxis and provides guideline based information for the pediatrician, other healthcare providers and health care teams.
NIAID Guidelines:
Food allergy is an important public health problem that affects adults and children and may be increasing in prevalence.
Read these best practice clinical guidelines for the diagnosis and management of food allergy
– (National Institute of Allergy and Infectious Diseases)
Across the nation, medical providers are working hard to increase food allergy awareness and protect patients. The following organizations also provide information and support pertinent to the diagnosis and management of pediatric food allergies.