What are Food Allergies? Explaining to Kids What it Means to Live with a Food Allergy
This 4 ½ minute slide show teaches elementary school age children without food allergies why kids with food allergies need to do things a bit differently. It is designed to increase understanding, encourage children to support their classmates, and discourage bullying. This resource can be used by school nurses and teachers in the classroom as well as a tool to introduce families in the school community to the basic concepts of food allergies.
Food Allergy Awareness for Parents of Children WITHOUT Food Allergies
This 6 minute slideshow with audio is created to increase food allergy awareness in all parents in the school community. It highlights basic facts about food allergies and the constant need for prevention and preparedness. The presentation is designed to help foster an understanding and supportive community.
School Food Allergy Notification Letter
A template letter to send to the school community notifying about food allergy policies for the school.
How to Use an EpiPen
Brief slideshow with audio reviewing how to use an EpiPen
Addressing Challenges to Food Allergy Education and Management in Schools
School nurses can face challenges in implementing food allergy policy. Learn more about potential solutions and helpful resources.
Free Food Allergy Awareness Posters
We use pop-culture and humor to help raise food allergy awareness in the school community. Teach.AllergyHome.org is a collection of over thirty posters with explanations and teaching points great for posting in schools and using in lesson plans. All of the posters can be downloaded for free as a color pdf to print out as 8 1/2″ x 11.″ size
Food Allergen Exposure in the School Setting
A handy reference table that reviews evidence, challenges, and interventions for exposure to food allergens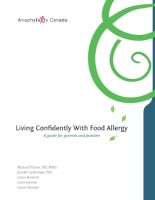 Living Confidently with Food Allergy Handbook
A free, easy to use, handbook designed to give parents the tools to keep their children with food allergies safe and happy while addressing their emotional needs. This fact based guide was reviewed by internationally recognized food allergy experts. This American and Canadian collaboration was lead by Anaphylaxis Canada and is available online and in PDF.
Food Allergy Tips for PTA Leaders
This one page handout helps PTA leaders pass food allergy awareness tips along to other parents in the school community.