Learn how to recognize the signs and symptoms of an allergic reaction so that you can give life-saving treatment early.  Most allergic reactions happen within minutes to a few hours after contact with an allergen.  Reactions can differ each time.  Keep in mind that an allergic reaction can start with mild symptoms that can get worse quickly.2 3 
Don't depend on seeing hives!  Some anaphylactic reactions occur without any skin symptoms (e.g. hives or swelling).14
An allergic reaction can involve any of the following symptoms, which may appear alone or in any combination.2 3 4 Make sure to talk to your child's doctor about how to recognize anaphylaxis.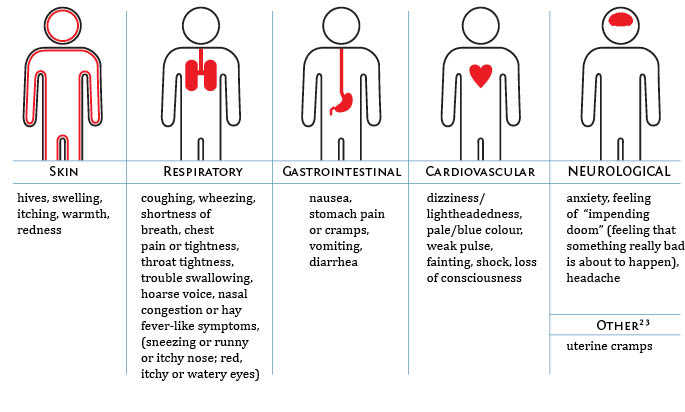 Small children can have a hard time describing their symptoms.  They may complain of a "funny feeling" in their mouth or throat.  Be aware of words that children may use to describe an allergic reaction.  They may say, "my mouth feels funny" or "my tongue is itchy".
It is not possible to know how bad an allergic reaction will be. Don't ignore early symptoms, even if they seem mild, especially if your child has had a reaction in the past.
Additional Information
NIH Resource: Guidelines for the Diagnosis and Management of Food Allergy in the United States: Summary For Patients, Family, and Caregivers
AAFA Resource: Quick Allergy Card – Is this Anaphylaxis?