Resources for Health Care Providers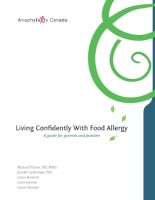 A resource to help your patients learn important information about food allergy management, ways to educate their children and communities, and other helpful tips and support.
Also available in Spanish
A quick educational tool using case studies to assess and address gaps in food allergy knowledge for primary health providers created by Springston et. al. This quiz consists of 9 multiple choice questions, with explanations and references for answer.
We thank Ruchi Gupta and her colleagues for allowing us to
reproduce this tool online. Click here for the original article
Food Allergy Epidemiology, Diagnosis and Management in the Medical Home
This free webinar was offered by the American Academy of Pediatrics' Medical Home Chapter Champions Program on Asthma, Allergy and Anaphylaxis and provides guideline based information for the pediatrician, other healthcare providers and health care teams.
NIAID Guidelines:
Food allergy is an important public health problem that affects adults and children and may be increasing in prevalence.
Read these best practice clinical guidelines for the diagnosis and management of food allergy
– (National Institute of Allergy and Infectious Diseases)